Alchemia on tour for the first time in Argentina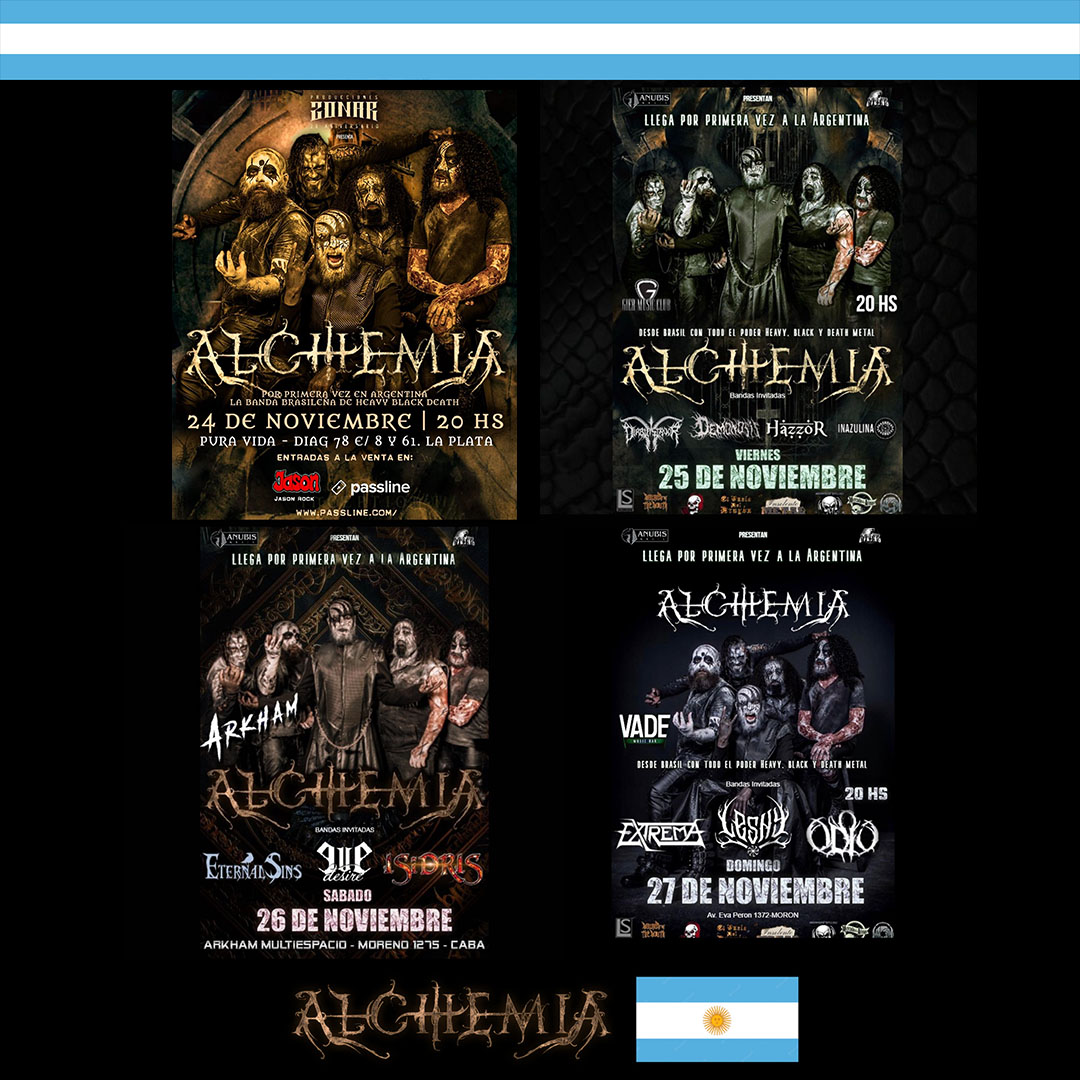 In anticipation of their European tour, horror metal band Alchemia will tour Argentina for the first time, with four consecutive headliner shows, where they will play the album "Inception" in its entirety. "We are excited to be able to play in Argentina for the first time, which has always been a great goal for us. It is one of the main markets that we want to promote Alchemia, as it has an audience very dedicated to rock and heavy metal", commented vocalist Victor Hugo Piiroja. "It will be a special tour because as headliners we will have more presentation time. So we decided to play the album 'Inception' in its entirety. We will videotape these shows and bring special merchandising to these events. It will be an amazing experience to prepare for the first tour in Europe, where we will play in Germany, Belgium, Holland and Poland under the supervision of On Fire Agency", he added.
Check out the "Ashes" clip at https://youtu.be/DYPSNWTUIKg
"Inception" was released in the Brazilian market by Shinigami Records and in Europe and Japan by the Italian label Wormholedeath. The material was recorded at Fusão and Carbonos studios, with production by Piiroja, in collaboration with Ricardo Campos (Sunseth Midnight), who produced the vocals. Mixing and mastering were handled by renowned Danish producer and audio engineer Tue Madsen.
The repertoire features dramatic symphonic elements and haunting Gothic synths, arranged and expanded upon by British composer Jon Phipps, who has created virtual orchestrations for Moonspell, Amorphis, Angra and Dragonforce. "We have a lot of influences on 'Inception', from heavy metal, black metal, death metal, film scores and classical orchestration. At the same time, it has its own identity", concluded Piiroja.
Alchemy:
Victor Hugo Piiroja (vocals)
Rodrigo Maciel (guitar)
G. Morazza (bass)
Alex Christopher (drums)
Wally D'Alessandro (keyboard)
Shows:
11/24: Pura Vida – La Plata, with Innato and Craneal
11/25: Gier Music Club, in Caba, with Hazzor, Demonosis, Inazulina and Diablastador
11/26: Arkham Multiespacio, in Caba, with Eternal Sins, Eve Desire and Isidris
11/27: Vade Music Bar, in Morón, with Extrema, Leshy and Odio
Sales – "Inception" (CD):
Brazil (Shinigami Records): https://tinyurl.com/4jraa9js
Japan – https://tinyurl.com/3cndz56c
Europe – https://tinyurl.com/26ut664v
For more info on the concert schedule visit www.alchemiaband.com.
Alchemy social networks:
Instagram: alchemiaobandofficial
Facebook: alchemiaobandofficial
Twitter: alchemiabandoff